It seems like CoolSculpting is everywhere these days, doesn't it? You've likely seen the ads on TV or in your favorite magazines. You may have even thumbed through a brochure about CoolSculpting at our Vero Beach, FL, med spa. If this enticing treatment sounds too good to be true to you, you're not alone. At White Orchid Spa, our providers have seen firsthand the amazing results that CoolSculpting can create.
First, let's take a look at what CoolSculpting actually is and how it works. This FDA-cleared body contouring treatment reduces unwanted fat without surgery, incisions, or needles. Instead, CoolSculpting transdermally freezes unwanted fat cells, causing them to die in a natural process. CoolSculpting is safe and effective because fat cells freeze at higher temperatures than other tissues. This leaves surrounding skin, muscle, and other parts of the body unharmed. The CoolSculpting device can be adjusted to use any of an array of applicators, each designed to address fat in a different area of the body. By using the correct applicator, we can ensure an even and deep reduction of fat cells.
The technology behind CoolSculpting was created by Harvard-trained scientists who noticed dimples forming in children's cheeks after they ate a lot of ice pops. After further exploring the phenomenon, they developed Cryolipolysis®, which is the proprietary mechanism of action used in CoolSculpting.
So what happens during a CoolSculpting treatment? In one of our private rooms, your provider begins by securing the CoolSculpting applicator to your skin. Because the device needs to make direct contact with your skin, we advise wearing comfortable, loose-fitting clothes that you can easily pull up or get out of. Depending on the area of your body you wish to treat, the applicator uses gentle suction to grasp your bulge. For areas of "non-pinchable" fat, such as the outer thighs, the CoolSculpting applicator is secured in place with a strap.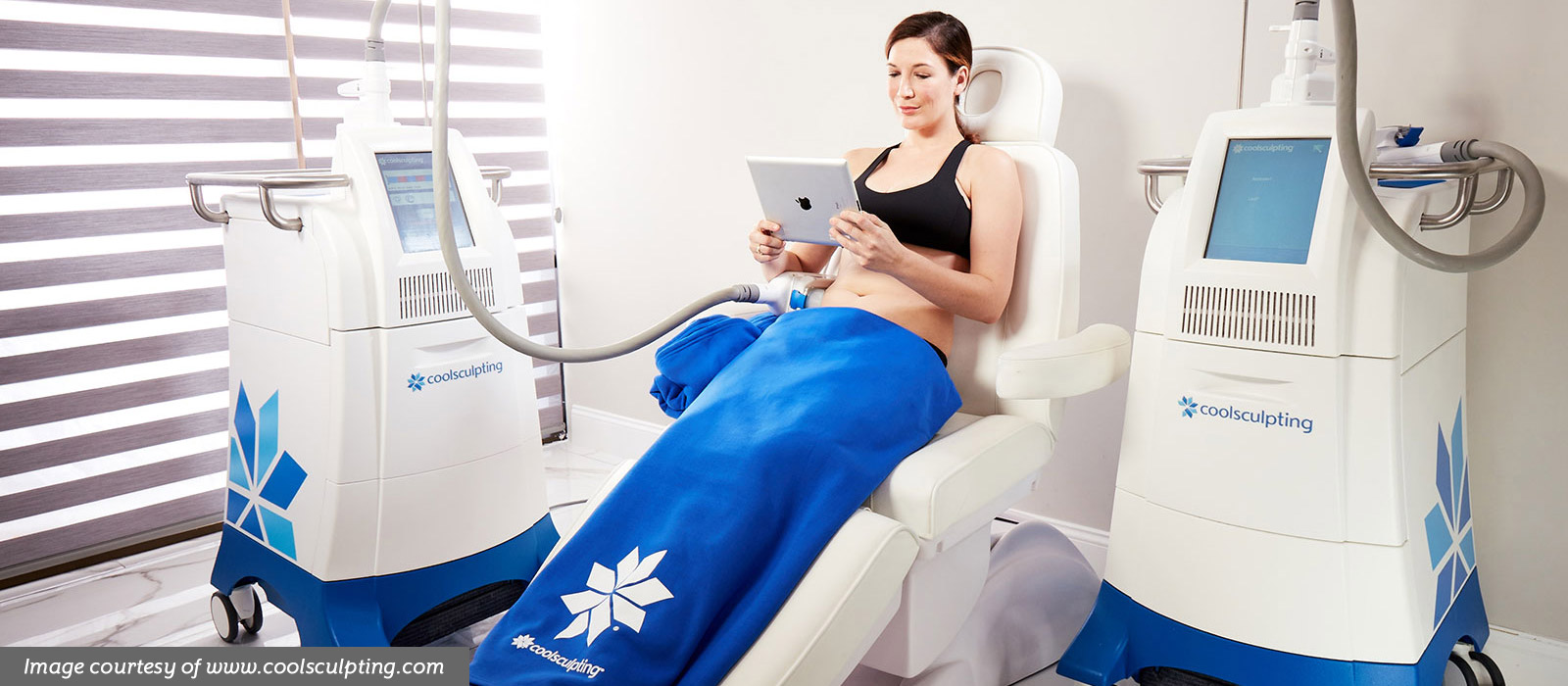 Your provider then powers on the CoolSculpting machine. Initially, you'll feel a sensation of intense coldness. After about 5 minutes, however, your treatment area becomes numb and the remainder of the procedure is quite comfortable. The CoolSculpting device needs to work for about 1 hour, and that time is all yours to do as you wish. Most patients browse the internet or watch videos on their phones and tablets. Some read books, while others nap or simply relax.
Once the device has worked for its prescribed amount of time, your provider removes the applicator and massages your treatment area. The bulge will be red and inflamed, which is normal. After your appointment, you can return to your normal daily activities. Some discomfort is possible as the area "thaws." Many patients compare the sensation to what they'd experience the day after a challenging workout.
Now comes the important part—your results! CoolSculpting doesn't generate instant results, but most of our patients say their outcomes were worth the wait. Over the next several weeks, the frozen fat cells die, and the body naturally removes them through its normal metabolic functions. As the weeks' progress, you'll likely notice visible slimming in your treatment areas. Your clothes are likely to fit better, and you'll feel more confident, too. Although a second CoolSculpting procedure can improve your outcome, many patients are happy with the results they see after a single visit.
In the long term, your results have the potential to last for life. The fat cells that were destroyed by CoolSculpting will not come back, however weight gain in other areas of your body is possible.
CoolSculpting's proprietary technology has the power to change your body, but the device is only half the story. Equally or even more important is selecting an experienced and highly skilled provider to perform the treatment, so you get the results you expect.
That's why women and men considering CoolSculpting in Melbourne, Sebastian, and throughout Florida's Treasure Coast choose the experienced medical professionals at White Orchid Spa. They are excited to help create a customized CoolSculpting regimen for you.