White Orchid Spa
3500 Ocean Drive
Vero Beach, FL 32963
Phone: (772) 231-1133

Hours of Operation
Monday–Sunday: 10 a.m.–6 p.m.

CoolSculpting®


Many of our Vero Beach med spa guests ask about CoolSculpting, a groundbreaking, nonsurgical fat reduction treatment that's ideal for the active lifestyles enjoyed by coastal residents. CoolSculpting tones trouble spots on all areas of the body where fat tends to accumulate–even when you exercise regularly and eat a healthy diet. No downtime is needed.
Women and men who want to slim down travel to White Orchid Spa for CoolSculpting treatments from Melbourne, Sebastian, Port St. Lucie, and other cities along the Treasure Coast.
CoolSculpting® Before and After Photos
What Is CoolSculpting Used For?
CoolSculpting is a noninvasive fat reduction treatment. It is not for weight loss, so you should be at or near the weight at which you feel comfortable before scheduling the procedure. We have a variety of different types of applicators so we can treat various areas of the body where stubborn pockets of fat can build up, including:
Abdomen
Flanks (love handles or muffin tops)
Inner and outer thighs
Upper arms
Lower and upper back ("bra fat")
Below the chin (double chin)
Pampering with a Purpose
Enjoy a variety of massage therapies, skin care treatments, and other spa services in our 6,200-square-foot facility.
Request a Consultation
How Does CoolSculpting Work?
CoolSculpting cools the fat cells just below the skin using specially designed applicators placed on the treatment area. The revolutionary fat freezing process at the core of CoolSculpting's effectiveness is called cryolipolysis. Harvard University scientists developed this clinically proven process after noticing that cold temperatures targeting fat cells won't damage surrounding tissue or the skin's surface. CoolSculpting's computer-controlled cooling process ensures its safety.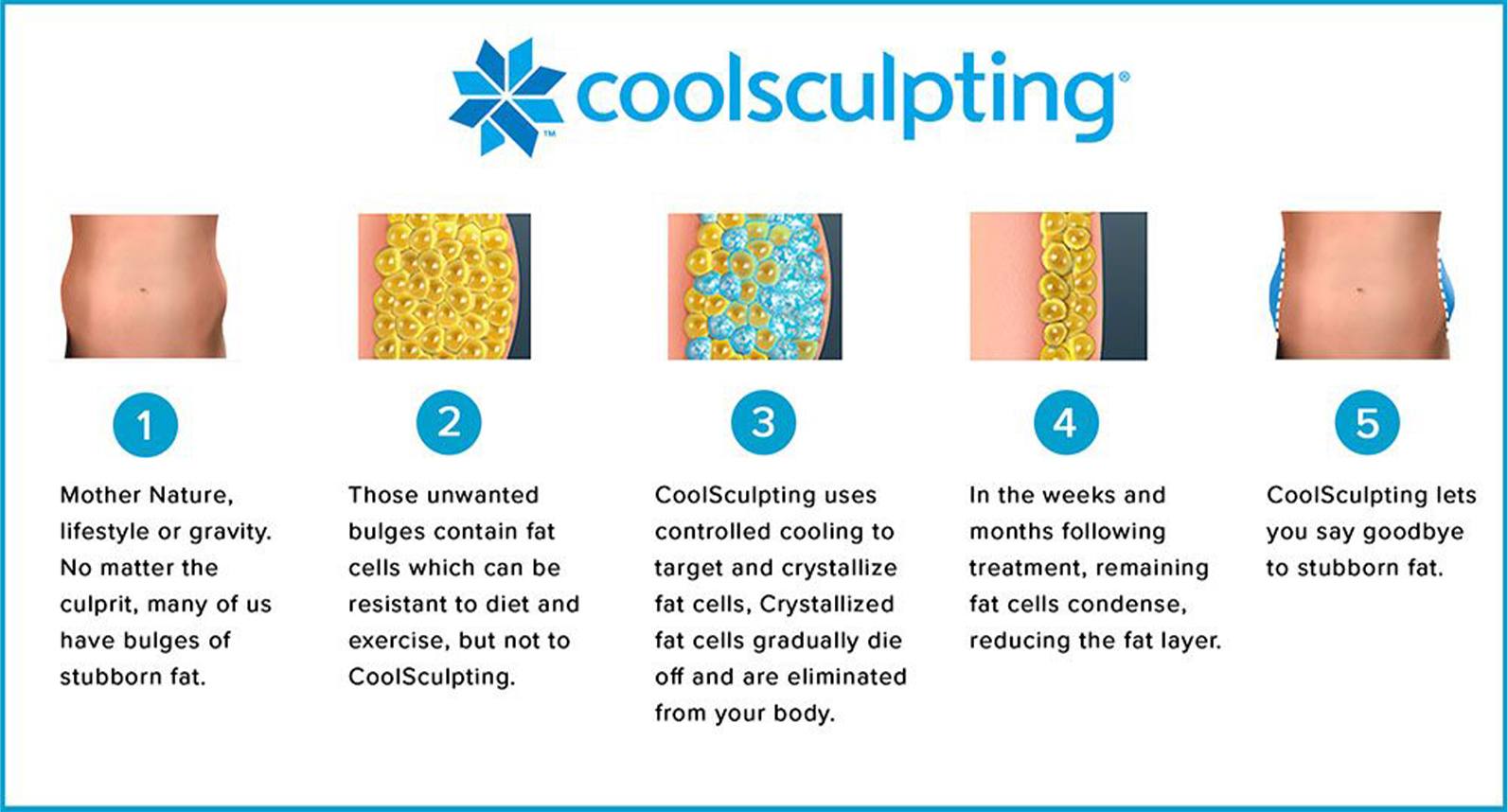 Can Multiple Areas Be Treated at Once?
Yes. We can treat multiple areas with CoolSculpting during a single appointment or schedule separate appointments to address specific areas.
What is DualSculpting?
DualSculpting is the process of using 2 CoolSculpting machines at the same time to treat 2 areas, such as both inner thighs or both hips, without adding any treatment time.
Why Do You Need Different CoolSculpting Applicators?
CoolSculpting applicators come in a variety of sizes, shapes, and capabilities to allow for optimal fat reduction on just about every area of concern. Review some of our most frequently used applicators below.

CoolMini®
This small, curved applicator fits snugly under the chin and jawline. It uses suction to draw the fat bulge in and keep it in place to reduce a double chin without surgery or injections.
CoolAdvantage™
We can fit a variety of areas, each in just 35 minutes, with the help of the following attachments:

CoolCore Advantage treats abdominal fat (above or below the bellybutton).
CoolFit Advantage treats inner thighs for an increased thigh gap.
CoolCurve+ Advantage reduces fat on the flanks (hip rolls, love handles, muffin top).
With DualSculpting, we can use 2 applicators simultaneously and treat both sides in 35 minutes.

CoolMax™
This is our largest applicator, designed to treat fat hanging over the waist and on the upper abdomen, hips, thighs, and male chest.

CoolSmooth Pro™
This applicator is specifically designed for dense "hard to pinch" areas of fat, such as the outer thighs, so it doesn't use suction. Treatments take 75 minutes.
What to Expect
Our guests actually use their time during a CoolSculpting treatment to browse their mobile devices, read, or even take a nap. That's because the cooling process numbs the treatment area within about 5 minutes of the procedure's start. During that time, you may feel some tingling, a pulling sensation, and a bit of discomfort. Depending on the area or areas being treated, the applicators either draw up the targeted fat with suction or are strapped in place (e.g., outer thighs).
Our experienced nurse practitioners can customize the CoolSculpting procedure to meet your unique needs and provide personalized attention to ensure you're comfortable throughout the procedure. Immediately after the treatment, your provider massages the area to smooth the hardened fat.

Our Nurse
Practitioners
Our highly respected nurse practitioners combine the training and experience of accomplished medical professionals with the warm, personalized service you expect at a luxury med spa.
Request a Consultation
Is CoolSculpting Safe?
CoolSculpting is FDA-cleared for the reduction of isolated areas of fat. Because it is noninvasive, nonsurgical, and requires no anesthesia, CoolSculpting involves less risk than liposuction. When performed by an experienced, qualified provider, the treatment is safe and effective.
Common Questions About CoolSculpting
Why choose White Orchid Spa for CoolSculpting?
While there are many CoolSculpting providers along the Treasure Coast, it's important to choose yours carefully. We stand out because:
Our providers are all nurse practitioners who are certified in CoolSculpting and have extensive experience performing the procedure.
Our treatment times are twice as fast because we offer DualSculpting with 2 CoolSculpting machines.
We invest in the latest applicators for treatments tailored to your specific areas of concern and the best possible results.
How does fat leave the body after CoolSculpting?
The body breaks down and gradually flushes away the treated fat cells as part of its natural cleansing processes.
How long does it take to start seeing results from CoolSculpting?
Within 1 to 3 months, you'll start to notice the treatment areas become slimmer and more contoured as your body naturally removes the fat cells destroyed by the CoolSculpting procedure.
How many CoolSculpting treatments are needed?
The number of treatments needed varies between patients, the specific areas of concerns, and individual goals. Small areas like a double chin often require a single treatment; larger areas usually need multiple treatments for optimal results. During your consultation, your provider will assess the areas you wish to treat and create a treatment plan that fits your goals, time, and budget. Feel free to ask about other treatments such as BOTOX® Cosmetic or microblading during this visit.
Are my CoolSculpting results permanent?
CoolSculpting results last indefinitely because treated fat cells are flushed out of the body. You will need to eat right and exercise to avoid gaining weight.
Is CoolSculpting or liposuction best?
Both treatments are effective for slimming down trouble spots, but they have different pros and cons. Liposuction is a more aggressive and precise fat removal treatment that requires anesthesia and recovery time. CoolSculpting reduces areas of fat without surgery, anesthesia, or downtime, but results develop gradually over the weeks after treatment.  The best one for you depends on the improvements you hope to attain and your personal preferences.
Gift Cards
Give the gift of relaxation.
From manicures to massages and everything in between, White Orchid Spa has the perfect gift for any time of year. Order online and have your gift card mailed or delivered instantly via email.
Purchase a Gift Card
Schedule a Consultation
Our providers tailor treatments specifically for each guest; a consultation enables them to listen to your concerns and create a customized treatment plan before your appointment. You can request a consultation using the online form or call our spa at (772) 231-1133.
Flip Through Our Service Menu
Discover everything White Orchid Spa has to offer in our interactive flipbook of services. Learn more about treatment details, pricing, and what to expect when you visit us for your relaxing, rejuvenating spa experience.
Explore Our Menu
Back to Top