White Orchid Spa
3500 Ocean Drive
Vero Beach, FL 32963
Phone: (772) 231-1133

Hours of Operation
Monday–Sunday: 10 a.m.–6 p.m.

WiQo® PRX-T33
What if you could get the benefits of a chemical peel without peeling? At our Vero Beach med spa, that is now possible with WiQo PRX-T33. This innovative chemical treatment bypasses the skin's outer layer and targets the dermis, improving the skin's overall texture and appearance without downtime, flakiness, or dryness. What's more, the treatment is safe for all skin types.
What Is PRX-T33?
Most medium chemical peels, such as the VI Peel® at our Vero Beach medical spa, include trichloroacetic acid (TCA) as a main ingredient. TCA helps exfoliate the skin and reduce fine lines. PRX-T33 contains 33% TCA, but it sets itself apart from chemical peels by also including both kojic acid and hydrogen peroxide. These substances change how TCA works during treatment, enabling it to still reduce fine lines but without TCA's peeling properties.
This proprietary blend is what makes PRX-T33 unique. Hydrogen peroxide and kojic acid reduce inflammation of the skin's outer layer, called the epidermis, and help restore production of new skin cells. They also help hinder melanin, the pigment that causes skin discoloration and sunspots.
What Are the Benefits of PRX-T33?
This versatile chemical treatment remedies a range of skin conditions without the uncomfortable side effects that sometimes accompany chemical peels. Treatments with PRX-T33 can:
Improve skin hydration
Reduce the appearance of scars (acne and other)
Minimize the appearance of pores
Lift sagging skin
Brighten dull skin
Our med spa guests begin seeing significant results after the first of the 4-treatment protocol. Another benefit of PRX-T33 treatments compared to traditional chemical peels is that the skin isn't more sensitive to sunlight after the procedure, so you can undergo treatments year-round. That's certainly an important consideration along the Florida coast.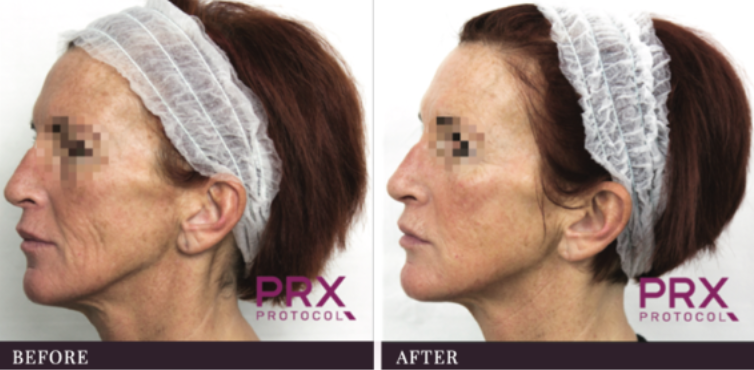 What Areas Can Be Treated?
The face is the most common treatment area for PRX-T33, but it can be applied to virtually any area. For example, some of our guests want to minimize the appearance of stretch marks on the abdomen or thighs. It's also a popular option for improving the complexion of the décolletage and can help lift skin on the chest and neck.
Treatment Planner
Our extensive menu of med spa treatments addresses a range of skin care and body contouring concerns. It's not always easy, though, to know which procedure—or procedures—is the best option. The interactive treatment planner removes much of the guesswork. Select the condition you're interested in treating, and you'll see a list of possible treatment options with links to learn more.
Plan Your Treatment
How Much Are PRX-T33 Treatments?
A package of 4 treatments at White Orchid Spa is $1,250 for first-time PRX patients. The 4-treatment system includes 2 products you'll use at home as part of the protocol. Once you've completed the series of 4 treatments, you may schedule single treatments to maintain your results. A treatment at our med spa takes only about 15 minutes.
You may want to consider other skin rejuvenation procedures, depending on the specific conditions you want to address. We offer customized melasma treatments, platelet-rich fibrin (PRF) therapy for dull complexions, and microneedling with PRF to stimulate the production of new collagen.
Schedule a Consultation
White Orchid Spa attracts residents from the Treasure Coast and visitors from all over for our effective and innovative treatments such as PRX-T33. Request a consultation with one of our nurse practitioners using the online form or call us at (772) 231-1133 to schedule an appointment.
Back to Top