White Orchid Spa
3500 Ocean Drive
Vero Beach, FL 32963
Phone: (772) 231-1133

Hours of Operation
Monday–Sunday: 10 a.m.–6 p.m.

diVa® Vaginal Rejuvenation
diVa® Vaginal Rejuvenation
Women who have had children or who experience hormonal changes associated with menopause can benefit from laser vaginal rejuvenation at our Vero Beach, FL, med spa. Our nurse practitioners at White Orchid Spa use diVa®, a hybrid fractional laser that both tightens and increases the sensitivity of the vagina without downtime.
What It Treats
Changes caused by childbirth, menopause, and aging can stretch and damage the vaginal area and lead to thinning and drying of the vaginal walls. Decreased blood flow reduces vaginal elasticity and lubrication. Combined, these changes affect the healthy function of the vagina and can decrease the enjoyment of sexual intercourse and negatively impact a woman's quality of life.
diVa treatments can also help women experiencing the involuntary leakage of urine (urinary incontinence), which is far more common than most people think. The majority of women will develop urinary incontinence to some degree.
How Vaginal Rejuvenation With diVa Works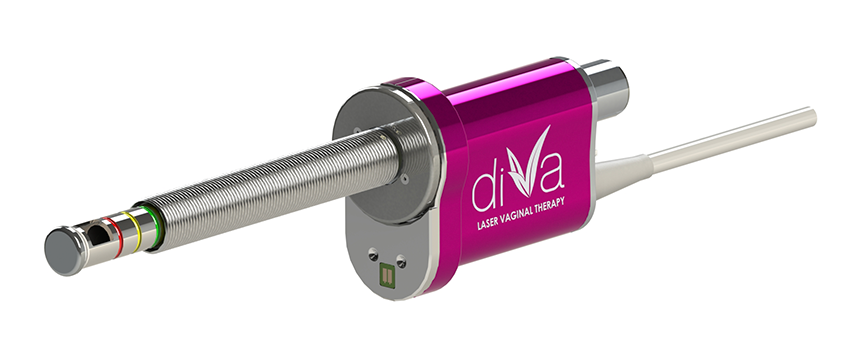 diVa uses advanced hybrid fractional laser technology, heating the vaginal walls with dual laser beams simultaneously. One of the beams targets the layers of vaginal wall tissue, thickening the wall with new tissue. The second laser stimulates the body's natural healing process, which produces new collagen. That process helps tighten the vagina. The results can help patients feel more confident during intimacy with their spouses or partners.
What sets diVa apart from other vaginal rejuvenation treatments?
Hybrid Fractional Laser (HFL) Technology: Sciton®, the company that makes diVa, developed this groundbreaking technology for its skin resurfacing laser called Halo®. A hybrid fractional laser enables the operator to customize the treatment to meet the patient's specific needs.
High Precision Automation: This motorized control system is highly accurate and produces consistent, predictable, fast, and safe treatments for patients.
Patient Safety: The quartz tip dilator is discarded after each treatment, greatly reducing the risk of cross-contamination. It's attached to the handpiece and expands and flattens the vaginal tissue so the laser beams heat the tissue uniformly.
Pampering with a Purpose
Enjoy a variety of massage therapies, skin care treatments, and other spa services in our 6,200-square-foot facility.
Request a Consultation
Flip Through Our Service Menu
Discover everything White Orchid Spa has to offer in our interactive flipbook of services. Learn more about treatment details, pricing, and what to expect when you visit us for your relaxing, rejuvenating spa experience.
Explore Our Menu
What to Expect
It's normal for women to be a bit apprehensive prior to their vaginal rejuvenation treatments. Fortunately, the procedure is quick and involves very little discomfort.
We provide exceptional privacy for our patients, and our nurse practitioners can answer any questions you may have before the treatment begins. Before the procedure starts, your provider applies a topical anesthetic to numb the area. The treatment itself takes 3 to 5 minutes, and most women say it's more comfortable than they expected.
Patients typically need 3 treatments scheduled a month or 2 apart to get the optimal results, but that's not necessarily true in all cases. After the initial series of treatments, follow-up procedures every 12 months can maintain the results.
"Before my diVa treatment, I was very insecure during sex. The laser treatments have really improved my self-confidence. I am most impressed by how quickly my spouse could notice a difference even after the first treatment."
Eileen, age 40
Results
The diVa hybrid laser resurfaces the tissue of the vaginal wall in a way that doesn't require downtime. Patients can return to their daily routines with minimal or no vaginal discharge, spotting, or discomfort. We do recommend avoiding sexual intercourse during the first 48 hours after the treatment. You can also ask our nurse practitioners about combining diVa treatments with the O-Shot®.
Many patients experience a noticeable improvement in their vaginal tone and health after the first treatment. Ideal results are generally noticed a month after the third treatment as the body's restorative processes respond to the stimulation of diVa's dual approach.
Our Nurse
Practitioners
Our highly respected nurse practitioners combine the training and experience of accomplished medical professionals with the warm, personalized service you expect at a luxury med spa.
Request a Consultation
Melasma has met its match!
If you're struggling with these stubborn patches of discoloration, we can help! Our personalized treatment approach for melasma can renew your skin's natural beauty—and your confidence.
Learn More
Common Questions
What is the cost of a diVa treatment?
We customize each treatment based on the individual's needs, so the price of the procedure varies from patient to patient. Once our nurse practitioner consults with a patient and determines her goals, we provide a specific price quote for the series of treatments.
Who is an ideal candidate for nonsurgical vaginal rejuvenation treatments?
Women who have had children or who are experiencing menopause may be interested in a resurfacing treatment to improve the quality of their vaginal tissue.
How long does a diVa procedure take?
Each treatment takes 3 to 5 minutes to resurface the vaginal canal. diVa's ergonomic design enables patients to remain comfortable during the procedure.
How many diVa treatments are recommended?
Depending on the results desired, our nurse practitioners may recommend between 1 and 3 procedures every 4 weeks, followed by 1 treatment every 6 to 12 months. Ultimately, it's the patient's choice.
What do diVa treatments feel like?
During the procedure, patients experience slight pressure against the vaginal wall as the laser resurfaces the tissue. The treatment is fast and causes minimal discomfort. Some patients may experience increased sensitivity near the vaginal opening.
Gift Cards
Give the gift of relaxation.
From skin care to massages and everything in between, White Orchid Spa has the perfect gift for any time of year. Order online and have your gift card mailed or delivered instantly via email.
Purchase a Gift Card
Is sedation necessary?
No, the laser resurfacing treatment is fast, easy, and completed in an outpatient setting. A topical anesthetic may be applied to increase patient comfort but is not necessary.
How does diVa laser vaginal rejuvenation compare to surgical vaginal rejuvenation?
Surgical vaginal rejuvenation is performed under anesthesia to correct severe laxity or repair damage after childbirth. It involves discomfort, downtime, and exercise restrictions after the surgery. Alternatively, laser vaginal rejuvenation is a quick office procedure for mild to moderate vaginal laxity. The diVa procedure involves little to no discomfort during and after treatment and requires no downtime. Unlike surgery, laser treatments increase vaginal lubrication and help correct vaginal atrophy (thinning and lack of elasticity).
How can diVa help after pregnancy?
Pregnancy and vaginal delivery can result in damage and ongoing issues with the vagina and surrounding tissues. Common concerns include vaginal laxity, painful intercourse, stress urinary incontinence, and weakness of the pelvic floor. Laser therapy with diVa resurfaces the lining of the vaginal canal and stimulates collagen growth to strengthen the deeper layers of tissue.
How can diVa help after menopause?
Menopause (and even perimenopause) involve hormonal changes that can cause dryness and thinning of the vaginal walls and decreased blood flow to vaginal tissue. diVa helps correct these concerns and is a long-lasting alternative to hormone supplements for women who want to avoid taking estrogen, progesterone, or testosterone.
Treatment Planner
Our extensive menu of med spa treatments addresses a range of skin care and body contouring concerns. It's not always easy, though, to know which procedure—or procedures—is the best option. The interactive treatment planner removes much of the guesswork. Select the condition you're interested in treating, and you'll see a list of possible treatment options with links to learn more.
Plan Your Treatment
Schedule a Consultation
Our providers tailor treatments specifically for each guest; a consultation enables them to listen to your concerns and create a customized treatment plan for you. Our vaginal rejuvenation guests travel from Melbourne, Sebastian, and throughout the Treasure Coast to have our nurse practitioners perform their treatments. You can request a consultation using the online form, or call our spa at (772) 646-0170.
Back to Top