White Orchid Spa
3500 Ocean Drive
Vero Beach, FL 32963
Phone: (772) 231-1133

Hours of Operation
Monday–Friday: 9 a.m.–7 p.m.
Saturday: 9 a.m.–7 p.m.
Sunday: 9 a.m.–5 p.m.

Laser Skin Resurfacing
In Vero Beach and all along Florida's Treasure Coast, sun exposure combined with the natural aging process can result in sun spots, fine lines and the loss of your skin's naturally healthy glow. The Halo™ hybrid fractional laser is a breakthrough treatment that rejuvenates your skin in a way that's truly customized for your needs. Halo can reverse years of damage by precisely targeting the right skin depth to restore a more youthful glow.
What Makes Halo Different?
Before Halo, skin resurfacing treatments generally offered patients 2 paths:
A single procedure that produced dramatic results with a long recovery period or;
Multiple treatments that created marginal results but with minimal downtime
Halo is a game-changing hybrid laser that provides the best of both worlds: excellent results with little recovery time. As the world's first hybrid laser skin treatment, Halo combines 2 wavelengths, enabling the provider to customize the procedure.
For example, most laser devices are either ablative or non-ablative. Ablative lasers aggressively treat the skin's outer layers to produce significant, immediate results. Non-ablative lasers gently target the deeper layers of the skin without damaging the external layers, stimulating new collagen production that over time creates healthier and more youthful-looking skin.
Halo combines both ablative and non-ablative wavelengths, producing impressive results without the downtime that's typically necessary with other laser treatments.
---
BEFORE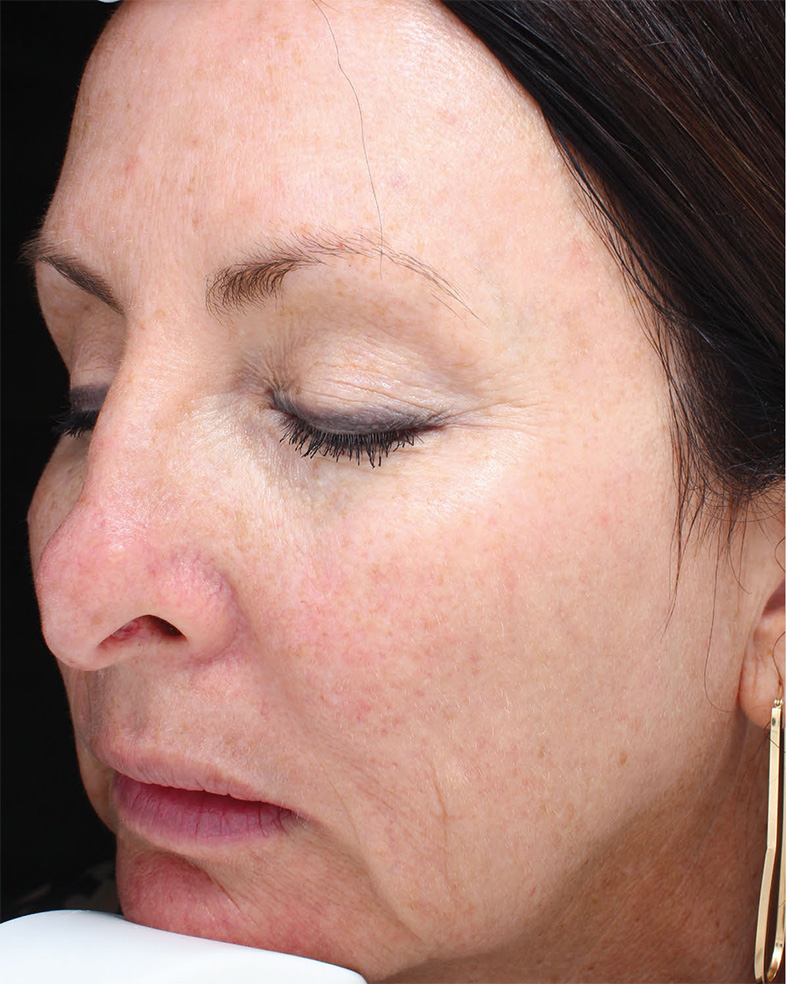 AFTER
Patient is shown before and 1 month after Halo hybrid laser treatment.
BEFORE
AFTER
Photos courtesy of Sciton.
What It Treats
Because your skin concerns aren't the same as all other White Orchid Spa patients, our laser specialists customize the Halo treatment to address your specific needs. Halo can completely rejuvenate your skin, improving its overall tone and texture, reducing the size of enlarged pores, and reducing discoloration.
It's especially effective in reducing melasma, one of the most common concerns of patients at White Orchid. Unlike intense pulsed light (IPL) treatments, which can actually worsen melasma in some cases, Halo is very safe for treating skin discoloration. In addition, Halo treats sun damage and all visible signs of aging.
How It Works
The unique dual wavelengths deliver an unprecedented ability to customize treatments for each individual. Every patient has different needs in terms of skin damage and downtime. With Halo, our nurse practitioners can precisely dial in the exact treatment each patient needs for amazing results within the desired downtime.
Halo delivers both ablative and non-ablative wavelengths to the same microscopic treatment zone: 2940 nm for ablation and 1470 nm for coagulation. Each wavelength can be adjusted for the size and depth of treatment area. In some cases, the ablative wavelength can be completely turned off for individuals looking for the mildest laser skin treatments.
Pampering with a Purpose
Enjoy a variety of massage therapies, skin care treatments, and other spa services in our 6,200-square-foot facility.
Request a Consultation
What to Expect
We begin each Halo treatment by applying a numbing cream to help minimize discomfort. The handpiece using during the procedure cools the skin, so most patients tolerate the treatment well. Expect to feel some heat with occasional prickly sensations. Because we customize the treatments based on each patient's concerns, the length of the appointment differs from one person to the next.
Your skin will continue to feel warm after the treatment for at least 30 minutes (longer if the procedure is more aggressive). Any post-treatment discomfort can usually be managed with over-the-counter pain relief medications. It's important to protect your skin based on the instructions provided by our nurse practitioners. Don't expect to see a significant change in the first day after the laser treatment, but by day 3 or 4 your skin should begin peeling.

Our Nurse
Practitioners
Our highly respected nurse practitioners combine the training and experience of accomplished medical professionals with the warm, personalized service you expect at a luxury med spa.
Request a Consultation
Your Results
The initial results appear as your skin starts to peel after 3 or 4 days, revealing the refreshed appearance. Improvements continue over time, with reduced discoloration, shrunken pores, and smoother and more even skin tone and texture gradually appearing over the following weeks and even months.
Halo results are long-lasting, but it's important to use quality sun protection products to minimize future damage.
Common Questions
How much does a Halo treatment cost?
Because Halo treatments vary depending on the individual's concerns, goals, and lifestyle, the cost changes. You may need a single treatment or a series of treatments. We can quote a specific price after your consultation.
How long before I can get back to my normal activities?
Our nurse practitioners provide each patient detailed instructions that should be strictly followed to maximize results. In general, you can expect to return to normal activities after the first 24 hours following your procedure. That includes applying makeup. Your skin will continue peeling, so some patients avoid social events for the first 5 days or so after getting laser skin rejuvenation.
Schedule Your Consultation
It's important to discuss your goals and have your skin examined by one of our nurse practitioners prior to any skin resurfacing treatment. Laser skin resurfacing guests travel from Melbourne, Sebastian, and throughout the Treasure Coast to White Orchid Spa. You can request a consultation using the online form, or call our med spa at  (772) 231-1133 to schedule an appointment.
Back to Top