White Orchid Spa
3500 Ocean Drive
Vero Beach, FL 32963
Phone: (772) 231-1133

Hours of Operation
Monday–Sunday: 10 a.m.–6 p.m.

LATISSE®
Long, thick eyelashes can enhance the eyes and create a more alluring and youthful appearance. LATISSE is a prescription medication approved in 2008 by the FDA to enhance the growth of upper eyelashes. Our nurse practitioners prescribe LATISSE at our Vero Beach med spa for guests who want to frame their eyes with lush lashes.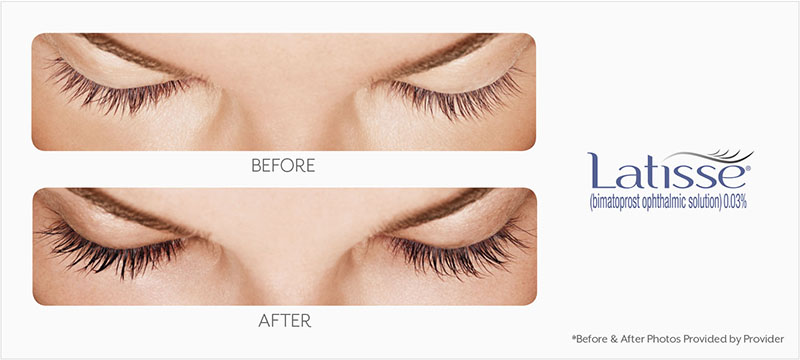 What It Treats
LATISSE is the only prescription medication approved by the FDA to enhance insufficient eyelashes. Guests whose eyelashes have thinned with age or who have always felt their lashes fell short can benefit from LATISSE treatments.

Pampering with a Purpose
Enjoy a variety of massage therapies, skin care treatments, and other spa services in our 6,200-square-foot facility.
Request a Consultation
How It Works
The active ingredient in LATISSE–bimatoprost–prolongs the growth phase of the eyelash hair cycle, resulting in longer lashes. Additionally, LATISSE increases the number of hairs produced during the growth phase, resulting in a fuller, thicker appearance.
It's important to continue applying the LATISSE solution nightly once you begin treatment. Stopping, or using LATISSE inconsistently, will result in your eyelashes returning to their previous appearance over the course of a few weeks or months.

Gift Cards
Give the gift of relaxation.
From skin care to massages and everything in between, White Orchid Spa has the perfect gift for any time of year. Order online and have your gift card mailed or delivered instantly via email.
Purchase a Gift Card
What to Expect
Incorporate LATISSE applications into your nightly skincare routine to ensure that you remember to use it every day. But if you miss a dose, don't apply an extra dose to catch up. You'll gradually see your lashes grow longer and, as the treatment continues, they will get thicker and darker. Even when you're satisfied with the results, continue using LATISSE for at least 4 months. At that point, you can return to White Orchid Spa to discuss whether you need to continue using LATISSE. You might also want to consider microblading to further enhance the appearance of your eyes. Microblading creates beautiful, fuller eyebrows.

Our Nurse
Practitioners
Our highly respected nurse practitioners combine the training and experience of accomplished medical professionals with the warm, personalized service you expect at a luxury med spa.
Request a Consultation
Melasma has met its match!
If you're struggling with these stubborn patches of discoloration, we can help! Our personalized treatment approach for melasma can renew your skin's natural beauty—and your confidence.
Learn More
Your Results
LATISSE works by keeping eyelashes in their active growth phase longer than normal, so the results emerge gradually over the course of several months. To ensure you're getting the optimal results, don't substitute another applicator for the one provided with your prescription. Using the provided applicator helps keep the solution sterile and reduces the risk of infection or irritation.
Flip Through Our Service Menu
Discover everything White Orchid Spa has to offer in our interactive flipbook of services. Learn more about treatment details, pricing, and what to expect when you visit us for your relaxing, rejuvenating spa experience.
Explore Our Menu
Schedule Your Consultation
Your first step to longer, thicker eyelashes is scheduling a consultation with one of our nurse practitioners. They provide LATISSE prescriptions for guests after meeting with them to discuss their concerns. You can also call us at (772) 231-1133 to schedule an appointment.
Back to Top