White Orchid Spa
3500 Ocean Drive
Vero Beach, FL 32963
Phone: (772) 231-1133

Hours of Operation
Monday–Sunday: 10 a.m.–6 p.m.

Complexion Correction MD Peel
Complexion Correction MD Peel
Even if you diligently follow a daily skincare regimen, hyperpigmentation issues such as melasma and other dark spots can mar your complexion. White Orchid Med Spa offers a versatile menu of treatments to address these skin concerns, including our Complexion Correction MD Peel. Patients from nearby areas such as Melbourne, Port St. Lucie, and Sebastian who get this Cosmelan® peel at our Vero Beach med spa see their skin lighten and take on a healthier glow within weeks of the treatment.
Before-and-After Photos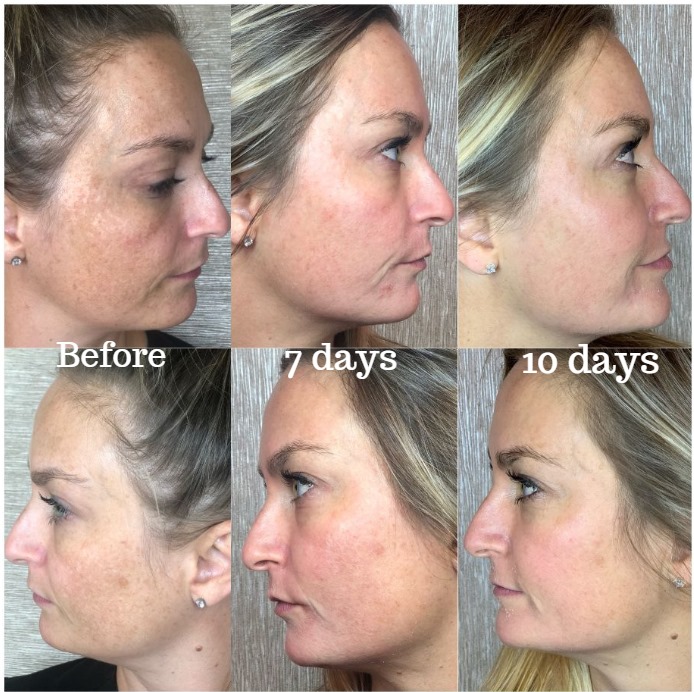 What It Treats
The Complexion Correction treatment is our go-to procedure for guests who want to lighten areas darkened by a variety of pigmentation concerns, including:
Melasma
Post-inflammatory hyperpigmentation
Solar and senile lentigo (dark spots from sun exposure)
Freckles
This innovative peel can be used for guests with very light skin tones to very dark skin tones. It can also be an effective treatment for concerns such as acne and acne scarring and fine lines.
We customize all treatments based on the guest's unique needs and our nurse practitioners can also discuss alternative procedures that we use to treat melasma and hyperpigmentation, such as Halo™ laser treatments, NeoSkin® laser treatments, WiQo® PRX-T33 peels, and the VI Peel®.
Flip Through Our Service Menu
Discover everything White Orchid Spa has to offer in our interactive flipbook of services. Learn more about treatment details, pricing, and what to expect when you visit us for your relaxing, rejuvenating spa experience.
Explore Our Menu
Melasma has met its match!
If you're struggling with these stubborn patches of discoloration, we can help! Our personalized treatment approach for melasma can renew your skin's natural beauty—and your confidence.
Learn More
How It Works
The active ingredients in the Complexion Correction peel work by both removing pigmented cells in the outer layers of the skin while also blocking the production of melanin. Melanin is a natural pigment that causes your skin to become darker when exposed to UV light. If your body produces excess melanin it can accumulate and result in dark spots.
Increased melanin production can be caused by certain medications, excessive sun exposure, or hormonal changes that occur during pregnancy. Melasma is sometimes called the "mask of pregnancy."
What to Expect
Treating hyperpigmentation with the Complexion Correction peel involves both an in-office treatment and a home care regimen. When you come into White Orchid Spa for the procedure we will:
Clean and prepare your skin
Apply the peel to your face, with thicker layers over the hyperpigmentation
Most patients experience a slight sting as the mask is applied, but that dissipates. The application process takes less than a half hour. Masks remain on for between 6 to 12 hours, depending on the amount of correction needed. You can return home after we complete the application of the mask. We'll provide instructions on when and how to remove the mask at home, along with an after-care kit.
The home care regimen begins immediately after you remove the mask with the application of a solution to help soothe the skin. You'll continue applying a cream up to 3 times a day for the next 2 weeks. We recommend that you take at least 5 days off from work as the peel works. Your face will be red and start peeling within a week.
Treatment Planner
Our extensive menu of med spa treatments addresses a range of skin care and body contouring concerns. It's not always easy, though, to know which procedure—or procedures—is the best option. The interactive treatment planner removes much of the guesswork. Select the condition you're interested in treating, and you'll see a list of possible treatment options with links to learn more.
Plan Your Treatment
Gift Cards
Give the gift of relaxation.
From skin care to massages and everything in between, White Orchid Spa has the perfect gift for any time of year. Order online and have your gift card mailed or delivered instantly via email.
Purchase a Gift Card
Your Results
A Complexion Correction peel produces remarkable results. As dead skin cells peel off, you'll notice irregularities begin to fade. After about a week, expect to see your complexion brighten and the skin taking on a shinier glow after about 2 weeks. The results continue improving for the next few weeks as the full effects of the peel emerge.
If you remain diligent about following through with the home care, the smoother and lighter skin can last for months. Your skin will be more delicate and sensitive than you may be used to so it's best to avoid prolonged sun exposure and always wear a broad-spectrum sunscreen.
Schedule a Consultation
Many of our guests travel from West Palm Beach and along the Treasure Coast to White Orchid Spa for skin rejuvenation treatments. You can request a consultation using the online form, or call our med spa at (772) 231-1133 to schedule an appointment.
Back to Top